Tak Province Logging Camp
Kabu worked in logging prior to being rescued by SEF and taken to the park. In the past, she suffered a significant leg injury, after being hit by a log while working in the forest. The wound was not properly treated, and as a result, her leg has healed with a major deformity.
Despite her injury, the previous owner continued to use her to haul logs as well as for forced breeding. Kabu had two babies, neither of which she was allowed to keep for very long. One was a male who died soon after his spirit was broken during phajaan. The other was a female who was sold into the elephant show industry.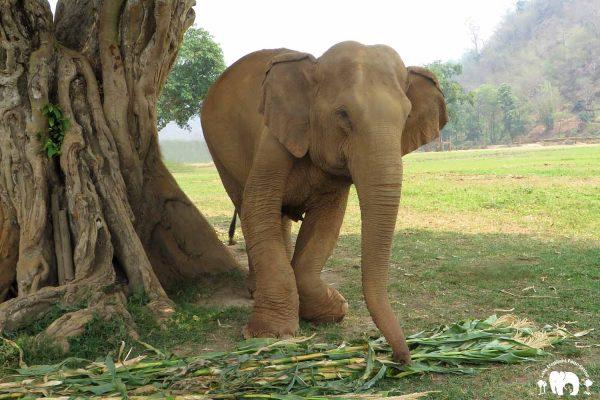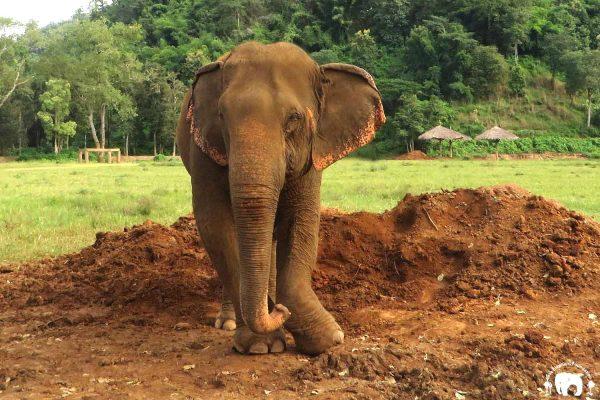 Since her rescue, Kabu has had a hard time making friends at the park after so many years of abuse and the theft of her babies – an all too common experience for captive Asian elephants. That is, until we rescued Chana, a young female elephant who also suffered a serious leg injury in January 2019.
Kabu and Chana are now inseparable and can often be found wallowing in Kabu's mud pit (territory she had previously been very hesitant to share) or enjoying hydrotherapy in the pool, which offers excellent weightless treatment for their leg injuries. Recently, a blind elephant named Ploy Thong has become friends with Kabu and Chana and these three elephants now spend all their time together.
Despite her hardships, Kabu is extremely mobile and very friendly with other elephants, except when they try to take over her mud pile!
Please scroll through their history and consider sponsoring Kabu