Illegal logging and extreme abuse
Jokia (eye from heaven) was rescued by ENP in 1999 from illegal logging and extreme abuse. Jokia suffered a miscarriage while pulling a log uphill and was not allowed to stop working to check if her calf was dead or alive. This event naturally caused Jokia extreme physical and emotional trauma, and she fell into a deep depression, refusing to work. This provoked the wrath of her mahout and owner, who took aim at her with a sling shot, permanently blinding her in both eyes. One fortuitous day, Lek heard Jokia trumpeting angrily in the jungle where she was being forced to work and so began the negotiation for her release.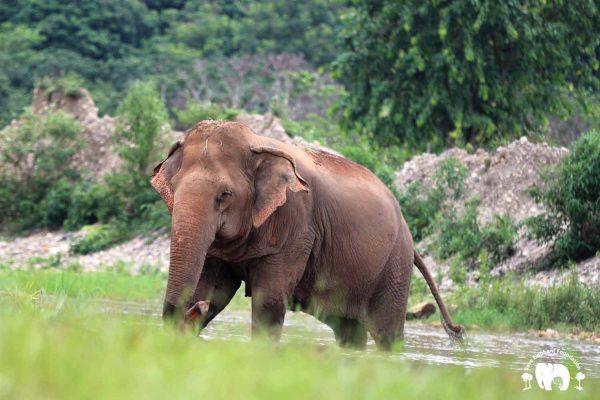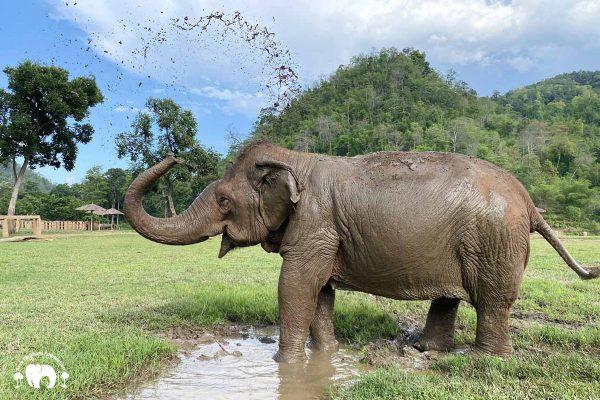 At ENP, Jokia continues to enjoy a very different life as part of a herd in a loving environment. She is well known for forming one of the most remarkable and longest standing friendships in the history of the park with a wonderful elephant named, Mae Perm back in 1999. Mae Perm was the first elephant rescued by Lek in 1992. She would constantly look out for her friend Jokia by using touch and sound to help provide a picture of what Jokia could not see for herself. If Jokia trumpeted to her friend, Mae Perm would run to her side and reassure her. It was a beautiful sight to behold.
Sadly, Mae Perm passed away on April 7, 2016. Jokia deeply grieved the loss of her friend and refused food or water for a few days. During this difficult time we followed her everywhere to ensure her safety. Luckily, Navaan started spending time with Jokia, which helped. When Mae Perm was still alive, both of them used to spend time with Sri Prae and Navaan's family. So, not long after Mae Perm's death, Jokia was accepted to be one of the nannies of Navaan. Jokia got along well with Sri Prae – they both walk slowly because of their handicaps.
Recently, Jokia has been spending most of her time with a newly rescued elephant named, Pailin, and these two elephants are gradually becoming close friends.
Jokia has faced a lot of sadness in her life, but she never let the pain of the past diminish her will to live. She keeps living her life with a strong willed spirit.
Please scroll through their history and consider sponsoring Jokia