Koh Phanga Logging, Begging & Riding
Solitary due to Aggressive Behaviour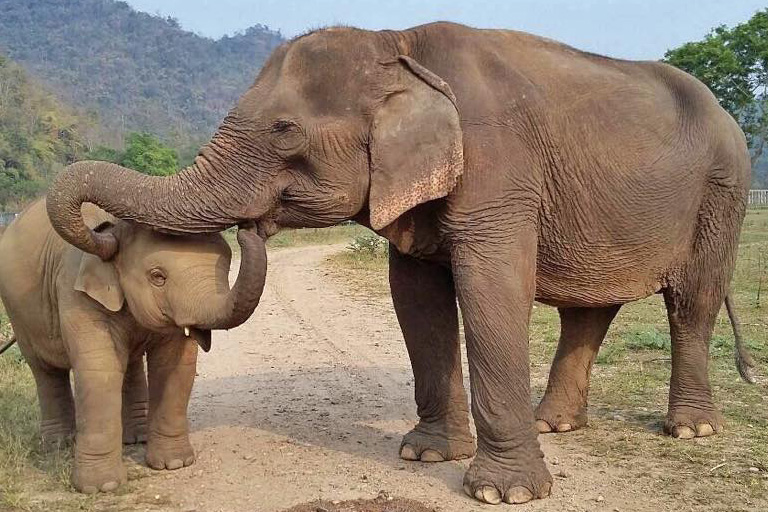 Originating from Surin province in Thailand, when old enough Jaidee began her career in logging – both legal and illegal – working in the far south of Thailand. When logging was banned in 1989, she became a trekking elephant. She worked all over Thailand, from the beaches in the south to the jungles of the north and in between.
As she got older, she became weaker and had no strength to carry tourists up hills. She then spent most of her time trekking where the terrain was flat, which meant beaches or open plains with little or no shade.
Sometimes she was rented out for weddings expected to stand in one place, quite often in the hot sun for hours on end.
Her last job was giving rides at a resort in the south which had an elephant camp. The days were hot and grueling. Jaidee was getting slower and slower. Thankfully, because of the new Animal Protection Laws that came into effect in December 2014, this resort decided to shut down their camp and sell off their elephants.
Jaidee was considered a favorite of the owner so they wished for her to be retired.
Jaidee made it through all her years of service without any broken bones or dislocations and still has sight in both of her eyes. She is thin but moves pretty fast for an old lady.
Jaidee is now able to rest in the sanctuary of Elephant Nature Park. Our late Co-founder Mr Adam Flinn was responsible for raising the funds for the rescue of Jaidee, making a significant donation in memory of his late Mother.
The name Jaidee can be translated to mean Good Heart.
Please scroll through their history and consider sponsoring Jaidee