Mae SriNuan was born around 1962, and was rescued from Surin Province, along with DokNgern, in late 2005. She was brought to ENP to begin her recovery from the trauma of her past. SriNuan's life followed the tragic path of so many other captive elephants, being forced to work in the logging industry, followed by street begging, and working at a trekking camp providing rides.
SriNuan is blind in her left eye from a slingshot injury. We were informed that she refused to comply with the commands of the mahout, and as a punishment, he fired the sling shot directly into her eye, blinding her.
Though not necessarily the tallest, SriNuan is the biggest female elephant at ENP. She has a huge head and very large ears. When she first arrived at the park she spent most of her time with DokNgern and was a nanny to DokNgern's first baby, Chang Yim, and later to her second baby, DokMai.
Despite her imposing size, she's a very easy going elephant and loves more than anything being a nanny to the younger elephants at the sanctuary. On June 7, 2020, our team rescued MaeMai and her five week old baby, WanMai, from an elephant trekking camp. As soon as they arrived at ENP, SriNuan immediately introduced herself to mother and baby. Every day, she would go to visit them, slowly and gently winning the trust of MaeMai and becoming a doting nanny to WanMai. Since that time, the small herd of three wander around the sanctuary together and are inseparable, just as they should be.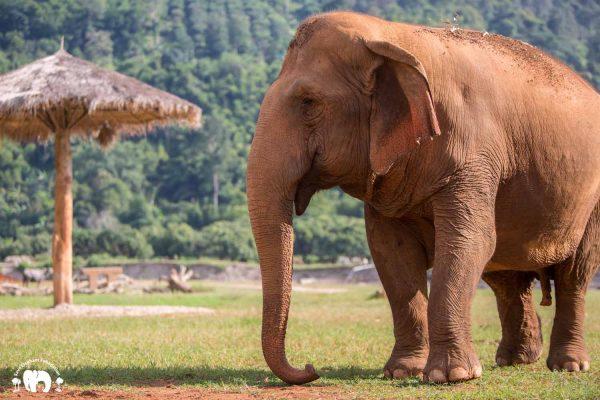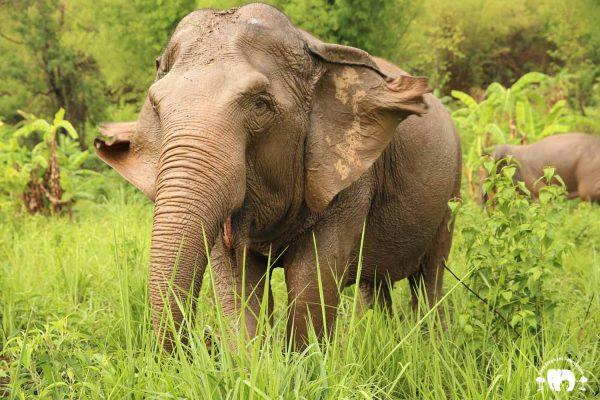 Please scroll through their history and consider sponsoring SriNuan