Victim of a landmine Elephant SriPrae uses a stick to clean her scar
Scientists often say that only animals with a thumb can use tools. Clearly elephants do not have thumbs but their trunks are extremely versatile.
In this video we see SriPrae clearing mud from the crevice where her foot joins her leg, the site of the landmine injury, with a stick she holds in her trunk.
It is believed SriPrae was born sometime in 1990. She came to Elephant Nature Park in Chiang Mai Northern Thailand 6 November 2010, at the young age of 20.
Sri Prae's name can be translated into 'feminine or smooth as silk'
In her younger life, before coming to Elephant Nature Park, SriPrae worked in the illegal logging industry 300+ km's south of Chiang Mai in Tak province, where she stepped on a landmine and spent 2 years recovering at the Thai Elephant Conservation Center Hospital in Lampang.
As a result of the foot injury caused by the landmine, her owner put her into a forced breeding program. This process takes the form of either artificial insemination or tethering the female and allowing a sexually mature male to mount her. Despite numerous attempts to forcefully impregnate her, she never became pregnant. Her owner decided to sell SriPrae as they had no use for her and to keep an elephant would cost money they did not have.
She was initially rescued by Antoinette van de Water – founder BTEH of the Dutch non-profit organisation Bring the Elephant Home.
After a while, SriPrae came to spend the rest of her life at Elephant Nature Park where she settled in well, became popular with other elephants and gave everyone at the park a huge surprise. Here is an extract from a forthcoming post here in the next few days, re-posted from 2012.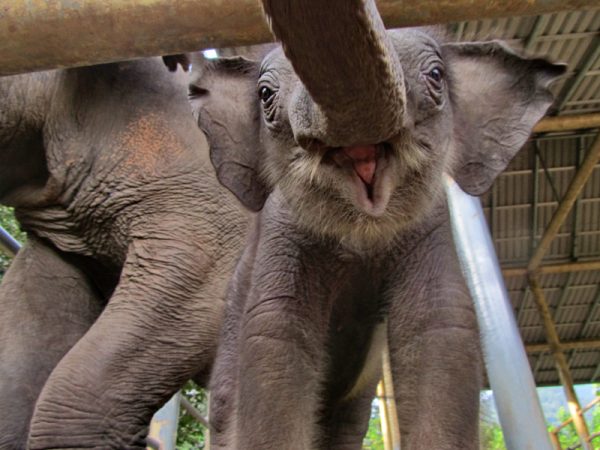 Sri Prae's two year anniversary is coming up on November 6th 2012. Sri Prae's front left foot is damaged from stepping on a landmine and she is also a victim of forced breeding.
Since her arrival she had never shown an interest in any of our males (until a recent fling with Tong Suk which took us all by surprise) nor had they shown an interest in her, at least not to our knowledge.
Though we are not completely sure at this point, we believe that she may have arrived already pregnant.