Lek Chailert, our founder learned about an elephant in her thirties with a broken leg who was continuing to being forced to work through covid-19 in the logging industry and carrying passengers on her back. The thought of this girl working while in excruciating pain haunted Lek. She could not get her out of her mind.
Lek decided to use the money from her birthday campaign to rescue this poor elephant.
Raya is about 40-50 years old. She came from the south of Thailand. Her leg was broken years ago. She is very friendly and calm. She worked in logging camp and moved to elephant riding. After Covid crisis, she was jobless. The former owner decided to contact us to buy her and let her live free at Elephant Nature Park.
Her journey to freedom to the new home at ENP started on 22 December 2021. The transportation took about 40 hours to reach our destination. At the beginning it was surprised us to see she walked up to the truck very easy. It took about 10 seconds for her to get onto the truck. This is the first elephant since we rescued many elephants that is very easy to walk up to the truck.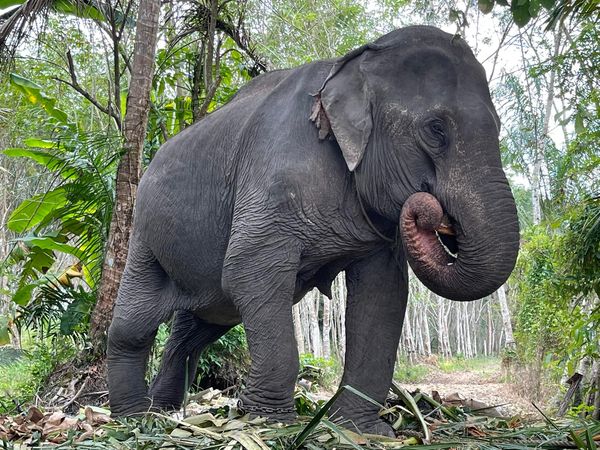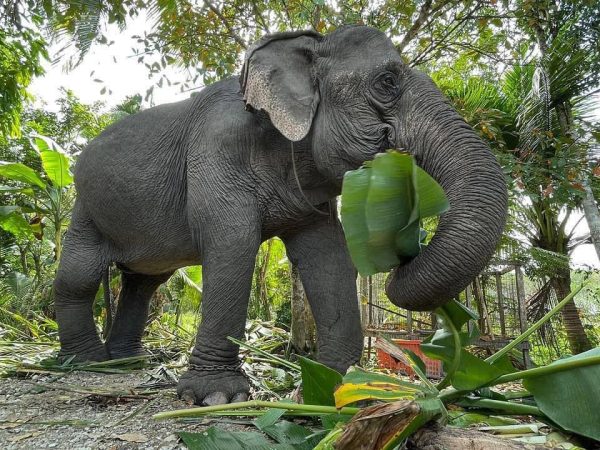 Please see how she walks with her broken leg.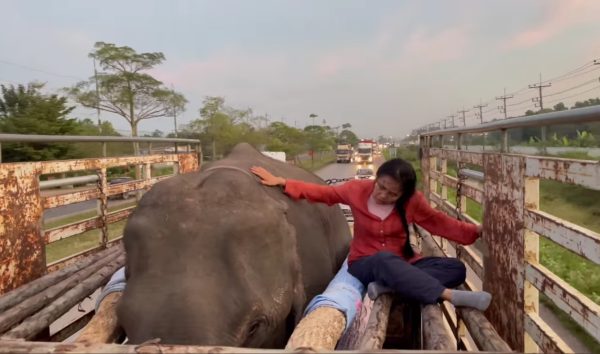 Here are the words from our founder, why she traveled with the elephant on the truck: 
Someone asked me why I traveled together with the elephant on the truck each time an elephant is rescued. Depending on the location, sometimes the transport will take many long hours to arrive at ENP. It can be a tiring journey, to be sure.
To answer this is clear. The transport can be stressful for the Elephant. All the elephants we have rescued have health and mental problems. We accompany them to reassure them of our goodwill. It is important to observe them, and to be present should any matter arise. We talk to them, and provide food if they will eat, or water, or to cool them down or to warm them up. It is a new beginning for them, and the healing process commences the moment that they step onto the truck. We also begin to learn somewhat of their personality, and are able to respond to their needs. To travel for long hours is onerous on anyone, and to be a sick or old or injured animal can be a challenge. One of our medical team will always be present. Others are present to comfort them should they panic, especially when the truck first moves without their previous mahout. They may be confused or fearful, having been on trucks many times in their life, and often that holds no fond memory. We are present to help the elephants be less anxious while on the road.\
Another person commented that I'm already sixty, and asked whether I get tired when I'm on the truck with an elephant. To that I say, many grandmother elephants are much older than me, and if they can endure the travel, then surely I can too. It is a privilege and joy to provide for this beautiful creature. In spite of illness and injury and heartache, their bravery inspires me. I will never give up on them. In life, we will travel together. To grow old caring for them is an untold wealth in living. Again, thanks to all who help to save beautiful Raya.
Raya arrived the park safely on 24 December 2021, see how she enjoy the freedom without chain.
Raya and her life story.
Thanks to all friends who donated on the 60th Birthday of our founder, Lek Chailert . You have helped to bring Raya to freedom and this is the most beautiful birthday present.