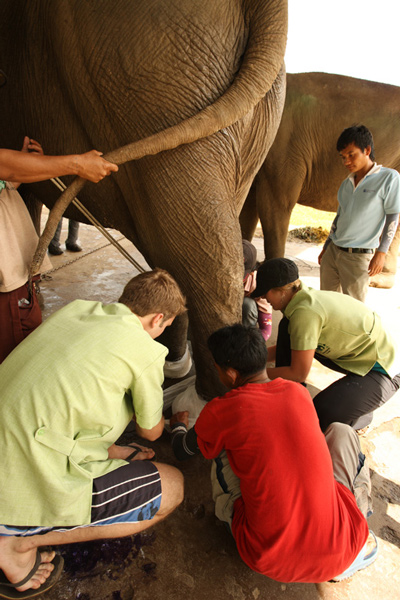 Location: Chiang Mai province – Northern Thailand
Nearest Airport: - Chiang Mai (CNX)
Duration: Up to four weeks (initial acceptance)
Volunteer vet positions are not available until late 2023. Please book as a Park Volunteer instead.
This program is for Qualified Veterinarians and Veterinarian Nurses/Technicians. Veterinary students are also welcome, completed hours can be used as part of your coursework/placement. University assessment paperwork can be completed by our park veterinarian as part of your field-work. Vet students applying for this program are required to be in a recognized full time veterinary study course with a letter of enrollment from the head of the veterinary department.
** If you are not qualified please apply as a Volunteer at Journey to Freedom , Elephant Nature Park Volunteer or a Dog Rescue Volunteer ** *We do not have an option to follow or shadow our vets.
About us:
At Elephant Nature Park we offer sanctuary to an array of animals including elephants, dogs, cats, birds, buffalo, pigs and many other rescued animals. Volunteering at the park offers visitors the opportunity to engage with the animals and for many it is an enriching and life-changing experience. In addition to volunteer duties there are many activities to enjoy such as cultural lessons, educational talks and nature walks.
Getting there:
You fly, bus or train into Chiang Mai city (normally the Sunday) before you start your position. Monday morning before 9:00am we will pick you up from your accommodation or you may make your own way to the Elephant Nature Park office to register. You are then driven 60km north to the park with the other volunteers.
What will I be doing?
Meal times (generally): Breakfast is at 7:00am, lunch 11:30am and dinner is at 6:00pm
As a veterinary volunteer you will spend half of each day assisting our park vets and medical staff at our Elephant Clinic. Duties vary depending on what treatments are required at the time of your visit. You will also join with the non-vet volunteers for the other half of most days. When time permits you may visit our small animal clinic where veterinary assistance is always welcomed and greatly appreciated. When assisting park vets with the elephants be prepared for early starts. Some days can start as early as 6am with most days finished before 5pm.
Elephant Vet Volunteer activities include some or all of the following;
- Introduction and meeting with staff and mahouts on arrival
- Working with our professional vets and medical staff to give medical treatment to elephants receiving special medical attention
- Elephant kitchen and feeding duties
- Learning about elephant conservation in Thailand and the part that this project plays in the preservation of the herd
- Collecting food from the plantations and helping with any ongoing maintenance tasks around the park
- Learning about the elephant families and how they choose friends
- Visiting the local school and nearby village
- Meeting the many other animal friends living at the park
- Falling asleep each night to the sounds of elephants calling
In some cases volunteers may be required to look after our recent rescues and may be sent to different areas. All volunteers are required to help with park chores as necessary.
Highlights:
Working with our professional vets and medical staff
A fascinating insight to the life of the elephant and how these magnificent creatures think, live and react.
A chance to enjoy the elephants- and help future generations have this privilege too
Coming away with a real understanding of the issues and playing an active part in genuinely making a difference.
Delicious Thai cuisine served to you on-site. Certainly one of the highlights of the country, the food here is not to be missed!.
Great social life, from enjoying the bar on site, to exploring the local village to learning more about Thailand in the various presentations, talks and DVD sessions
Making friends for life in one of the world's most beautiful countries
Accommodation and food:
You will be living on site in comfortable accommodation sharing with at least two other volunteers. Meals at the park are casual affairs, the focus being on high quality locally grown produce prepared in Western and Eastern styles. The range on offer will suit all diets from vegetarian to Halal.
What is provided?
Transport from Chiang Mai to Elephant Nature Park and back
Clean, convenient accommodation on site
Three delicious meals per day, served in buffet style with great amount of choice
Internet connection - generally available
A practical education on the challenges facing elephant conservation
What do I need?
A full passport valid for the duration of your stay
Insurance (covering your placement time and any planned independent travel)
Transport to Chiang Mai city
Independent travel costs and return to the airport
Any additional costs such as trips, snacks, entertainment (allow maybe 200 Baht per day depending on lifestyle)
A visa is normally not necessary for under 30 days from most western European countries
No compulsory vaccines are necessary although do check with your doctor to make sure polio, typhoid and Hepatitis A&B jabs are up to date
Extensions:
The initial maximum four week course may be extended depending on availability and suitability. Any decision of extensions will be made at the end of your stay with us.
Leaving the park:
When it comes time to leave us (many people want to stay forever) on Sunday the transport departs the park around 2:00 pm and you will be in the city by 3:30 pm . If you have to leave earlier please contact our volunteer coordinators to arrange this
All About Your Vet Volunteering Position:
Starting From:

Starting From: 9:00am - 9:30am. Pick up from your Chiang Mai city hotel, or you must be at our office at 8:50am. - (Please check map)

If you are staying out of town (outside Middle ring-road) additional charges apply. Please advise on your reservation form.

Returning:
Sunday around 15:30 (3:30pm) to Chiang Mai city on Sunday.
Baggage/Luggage Allowance

One small day pack and one rucksack (limit 75 litres) per person.
What to Bring:
Overnight bag with change of clothes for several days, Hat, Sunscreen, Sandals/Flip Flops, towel, Shoes for walking, Camera, Bug Repellent,

Refillable Water Bottle

. Flashlight, Coursework materials.
Operational Months:
All Year Round.
Age Suitability:
Adults only.
| | |
| --- | --- |
| What is included | |
| Transportation: | Chiang Mai city to / from park |
| Accommodation: | Clean, convenient accommodation on site |
| Meals: | Three delicious meals per day, served in buffet style with great amount of choice |
| Other | Internet connection - generally available, a practical education on the challenges facing elephant conservation |
| | |
| --- | --- |
| Bookings close: | One week before you are due to visit. A deposit is required to secure your place(s). |
| | |
| --- | --- |
| Volunteer Contribution: | (per week or part of a week) Adult: 12,000 Thai Baht |
Please note - Priority will be given to Veterinarian Students and Veterinarians as we have limited spaces available.
Booking Process for a Volunteer Vet
Use our contact form to provide details of your qualifications and course you are on.
You give us a date and, if spaces for vet volunteers are available, we will inform you.
We will make the booking for you and send you a link to pay your deposit to confirm your booking.