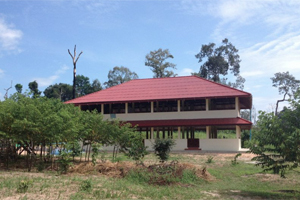 Location: Siem Reap - 100 km North of City – Cambodia
Nearest Airport: - Siem Reap (REP)
Duration: one – eight weeks.
Save Elephant Foundation is working within the Cambodia Wildlife Sanctuary to protect and conserve 1 million acres of jungle habitat, approximately one hour north of Angkor Wat. The project spans 25,000 acres and aims to protect the land and all of the native species, flora and fauna, that call it home, including tigers, monkeys, buffalos, and of course, the Asian elephant.
Initially, this project will focus on tree planting and restoring the region's forest and combatting the illegal logging that has taken place. Other goals for the Elephant Sanctuary Cambodia are plant and wildlife identification, seed collecting, trail-making and educational outreach. Be a part of this project from its grass-roots!
Volunteer Program
Volunteers are essential to the success of the Elephant Sanctuary Cambodia, especially now with the project in its early stages. All hands are on deck to help regrow the severely de-forested landscape of northern Cambodia, eventually providing a safe habitat for the country's Asian elephant.
As a volunteer, you'll be planting trees, collecting seeds, identifying plant and animal species, making trails, developing an on-site school, working with the local community to establish educational outreach programs for children, gardening, helping with minor construction (tables, fences, etc.), and literally anything else that might pop up!
Volunteers receive a free t-shirt and reusable water bottle. Round-trip transportation is included from the main office in Siem Reap.
Getting there
You are responsible for getting yourself to Cambodia . Pick up is on Monday mornings at 08:00 from
Siem Reap Accommodation or Song Sa-Ngaam Border Crossing, Si Saket Province.
What will I be doing?
By volunteering at the Elephant Sanctuary Cambodia, you will help regenerate the jungle habitat of the endangered Asian elephant. Tree planting, seed collecting and trail-making are just some of the responsibilities you'll have. It's not often you can participate in a project that is literally at the grass-roots level.
Accommodation and food
You will be living on site in comfortable accommodation sharing with at least two other volunteers. Here you will fall asleep to the sounds of elephants calling. All meals are vegetarian, with unlimited drinking water available.
What is Provided?
Transport from Siem Reap Accommodation or Song Sa-Ngaam Border Crossing and back
Clean, convenient accommodation on site
Three delicious meals per day, served in buffet style with great amount of choice
What do I need?
A full passport valid for the duration of your stay.
Insurance (covering your placement time and any planned independent travel).
Transport to Siem Reap or Border crossing
Independent travel costs and return to the airport.
Any additional costs such as trips, snacks, entertainment (allow a few hundred Baht per day depending on lifestyle).
A visa is normally not necessary for under 30 days from most western European countries.
No compulsory inoculations are necessary although do check with your doctor to make sure polio, typhoid and Hepatitis A&B jabs are up to date
Extensions
Volunteers can apply for an initial maximum stay of 8 weeks. Positions start on Monday.
To start on another day you still need to select Monday as starting day and inform us in the booking form's remarks box. Whatever day you start the position will finish on the subsequent Sunday. The rates quoted are per week, or part of a week.
Leaving the Project
You leave around lunch time on your last Sunday with us. Arrangement are then made to take you back to Siem Reap or the border crossing at Song Sa-Ngaam.
All About Your Volunteering Position:
| | |
| --- | --- |
| Starting From: | 08:00/09:00 Siem Reap Accommodation or Song Sa-Ngaam Border Crossing, Si Saket Province |
| Return after finishing at the project: | After lunch on Sunday to Siem Reap Accommodation or Song Sa-Ngaam Border Crossing, Si Saket Province. |
| What to Bring: | Overnight bag with change of clothes for several days, Hat, Sunscreen, Sandals/Flip Flops, Change of clothing for river bathing, towel, Shoes for walking, Camera, Bug Repellant, Flashlight. |
| Operational Months: | All Year Round. |
| Age Suitability: | Adult and children if accompanied by an adult. |
| | |
| --- | --- |
| What is included | |
| Transportation: | Transport from Siem Reap Accommodation or Song Sa-Ngaam Border Crossing and back. |
| Accommodation: | Clean, convenient accommodation on site. |
| Meals: | Three delicious meals per day, served in buffet style with great amount of choice. |
| | |
| --- | --- |
| Bookings close: | Five days before you are due to visit. A deposit is required to secure your place(s). |
| | |
| --- | --- |
| Volunteer Contribution: | (per week) Adult US$ 400 (approx 13,000 Thai Baht) – Child under 12 years old: 50% adult rate when accompanied by legal guardian. |