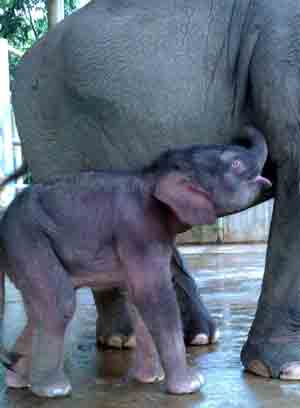 Mintra gave birth to a beautiful baby boy at 00.20am on the 24th August 2013
Mintra is the handicap elephant, her back hip is dislocated, we rescued her from street begging in Bangkok..
Her first day with her newborn is baby a bit difficult because of Mintra still depress from the birth pain that she felt. Mintra lost her right nipple when in the training crush. Her chest was badly damage by the tight ropes used to restrain her.
She becomes very nervous, each time when her baby wants to suckle. She moves away from him.
Our vet and mahout help to take the milk from Mintra to give to the baby.
Teams have been assigned to stay with Mintra and baby to help feed. and we will be 24 hour care until Mintra can feed her baby by herself .
The baby is a healthy 108.30 kilograms, 97 centimeters tall and 99 cm long..