Update the new friendship Tang Mo and Ram Ruay.
Tang Mo was rescued from the zoo on August 2020. She is a young female elephant age 23 years old who spent years of life for performance. She lived at the zoo with her adopted brother, his name is San Mueng. San Mueng is the 8 years old elephant. He was taken from his mother and left home when he was only three years old. Since that time he has known only the zoo. He was trained to perform as elephant show to entertain guests. They were chained and accompanied each other while they were at the zoo. When the zoo closed due to Covid-19 pandemic, on 11 August 2020 we moved Tang Mo to ENP. We had to leave San Muang behind at that time as we didn't have enough funds to rescue him. San Mueng displayed such sadness and mourning when he saw Tang Mo leave him behind. It was such a heart broken moment. Please see the video showing their story here: The story of Tang Mo and San Mueng.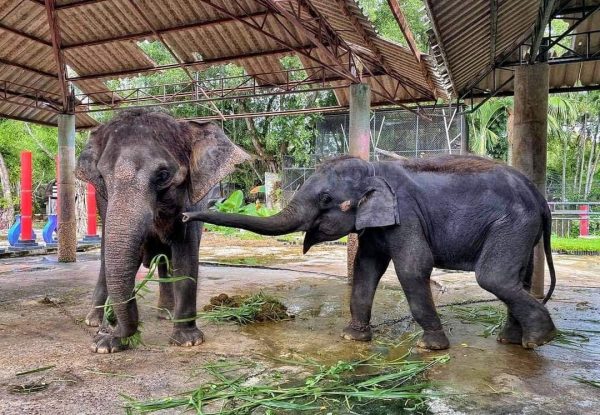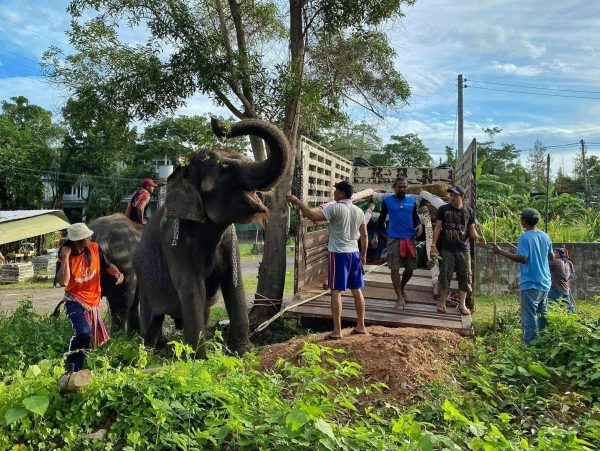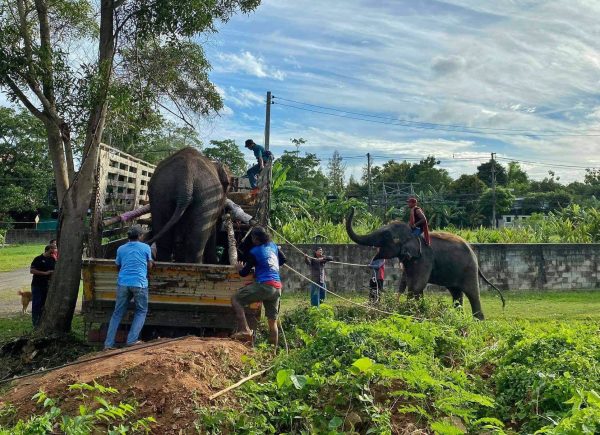 Tang Mo arrived Elephant Nature Park on 12 August 2020. After 32 hours on the road from Phuket, she arrived at the park safely with warm welcome from our residents. It was pouring rain when she arrived, she was not interested to eat. We took her to a temporary shelter next to Dok Rak and Thong Ae. When she met them, she talked fluidly, sending her voice out to others, and it resonated with others. There were many grumbles and rumbles in return, even from those far away. Her freedom and peaceful life has started on this rainy day.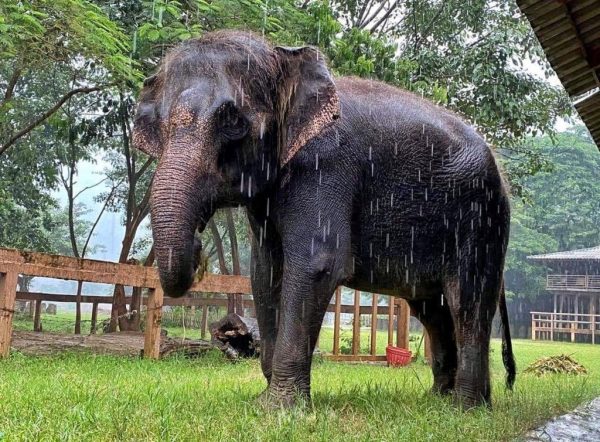 Our mission did not complete yet. We could not leave San Mueng alone at the zoo. Fortunately, due to the overwhelming outcry of support we have raised enough fund to free San Mueng from the zoo in less than 24 hours! with the the generous donation from our supporters we could rescue this young boy and take him home. We are so grateful to see his beautiful life has started and reunited with Tang Mo again.
Only a month later, we received funds to rescue San Mueng. He arrived ENP on September 2020. Please watch the heart touching moment when the two elephants reunited : Tang Mo and San Mueng reunion. After bringing Tang Mo to meet with him, at first he seemed happy, but a short while later, he seemed to lose interest. Our team stayed close to observe him, to understand and help him. He is more calm, but still show trauma, his eyes always downcast. Our team tried to help him with love and care, in a short while we can see the smile on his face, his eyes more relax and gentle. Now, he is living happily in his chain free shelter and in the evening he can go to the river to enjoy his freedom.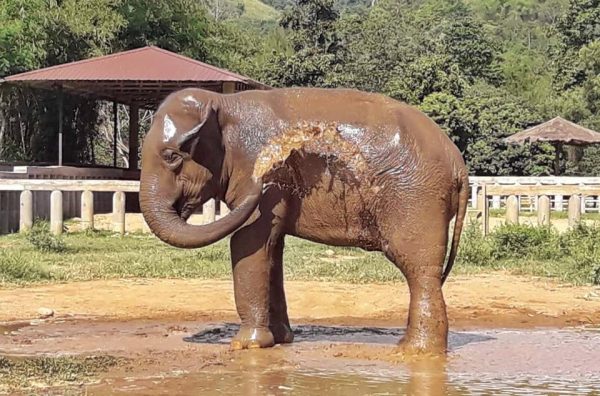 We let Tang Mo takes her time and relax on her own terms. We introduced her to the others, but she interested to be friend only with Ram Ruay who was the one we rescued on the group of 7 elephants. Tang Mo quite bossy to her new friend who is much older than her. Tang Mo loves to swim. She spends time up and down in the swimming pool. Ram Ruay hesitated to swim in the pool, she walked beside the pool waiting for Tang Mo to get out from the pool. It is common for the rescued elephant who comes from a life of hardship, they do not trust easily. It takes time to bring back their confidence.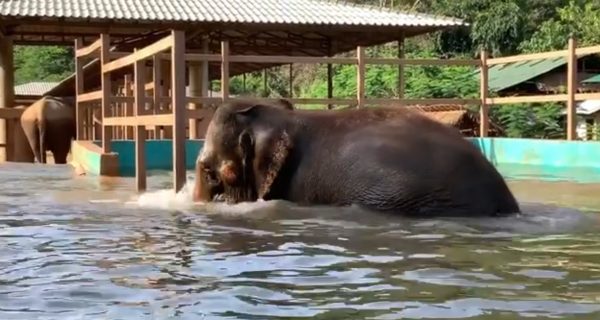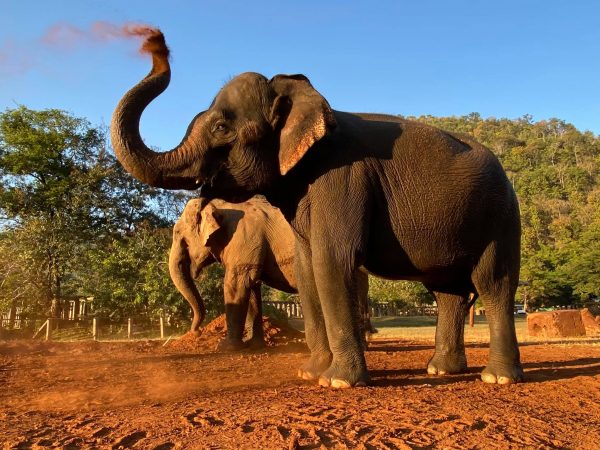 We observe her daily life and found that Tang Mo has some difficulty to walk. From our experience, the elephant who was chained for a long time do not get used to walk without chain after we unchain them and let them walk freely. So, we've started the program "Walk without chain" for the elephants.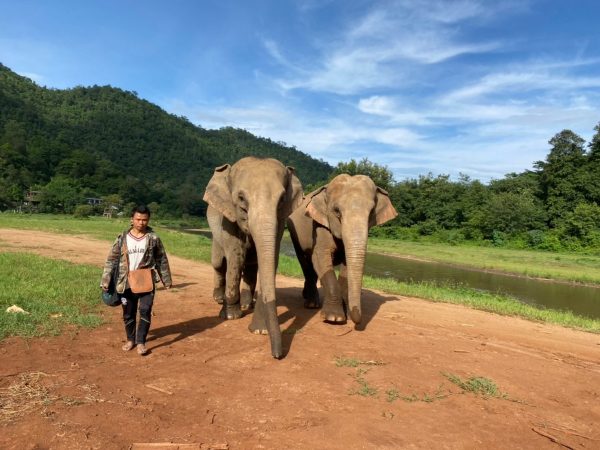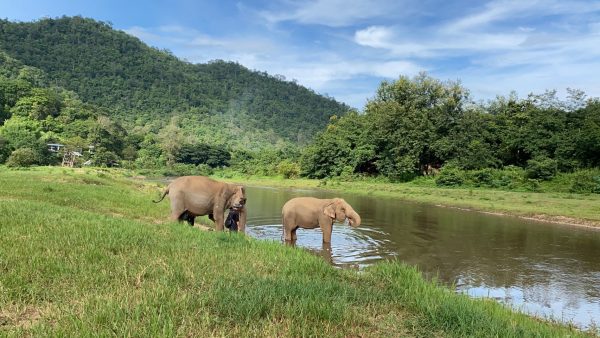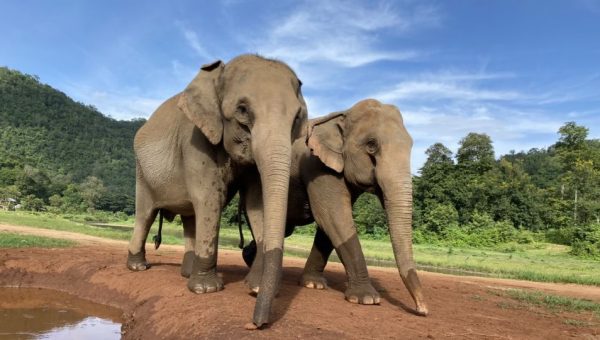 Our mahout walks with Tang Mo and Ram Ruay everyday. They are walking with more confident and look much more healthier. We let elephants join together, they can accompany and socialize to each other. This is the best way to bring them back to be elephant.