Update Gluay Hom, the sweet boy who lived with chain for many years.
Gluay Hom had lived at a crocodile farm and zoo near Bangkok – Thailand. He was trained to perform tricks for tourists. While he was living at that farm, he was chained to a pole in a stadium. His swollen right foreleg hangs limp. His head and his body had a lot of wounds from lying on the floor.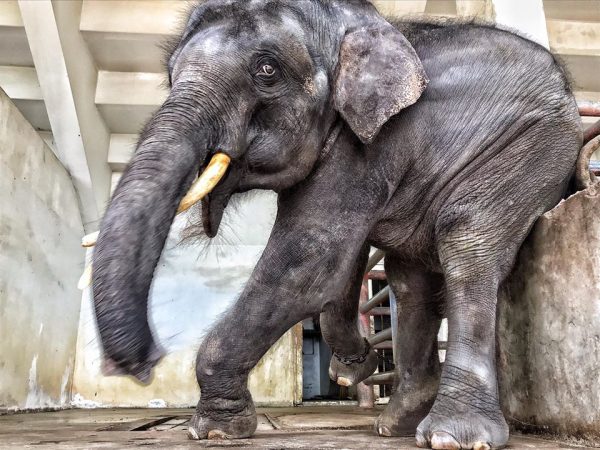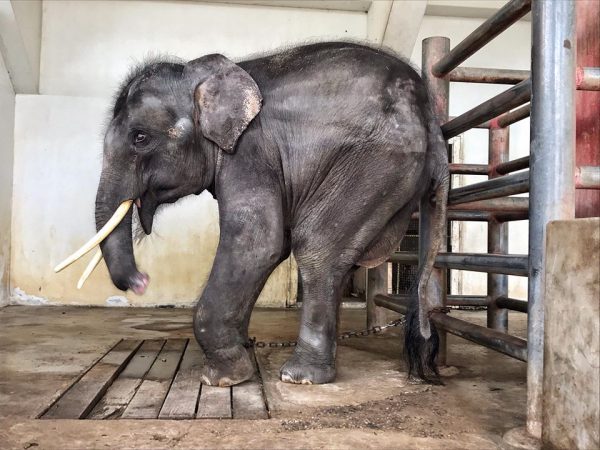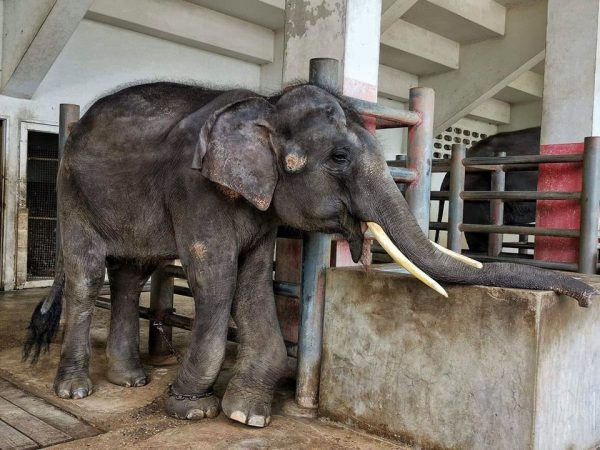 National Geographic documented his plight to let people around the world open their eyes, how he was suffered. Over 70,000 people signed petition with Change.org calling for help for this poor elephant. But it is complicated, under Thai law Gluay Hom's owner (former owner) would have agree to relinquish. Fortunately, after a period of negotiation by our founder – Lek Saengduean Chailert with the great support from The Greater Good, Abraham Foundation and Trunk Up New York donated to help rescue this young boy. His journey to the new life started on August 4th, 2019.
The park vet checked his health condition to see what was the cause of his health issue.
Gluay Hom arrived at ENP in the early morning of 7th August, 2019. The driving journey took 14 hours. He was so patient, cooperating well with new intrusions into his personal space. His appetite had not failing, eating heartily throughout the whole trip. His new home is quite large, and no doubt daunting to the boy.
A few days after he arrived, this little boy quite exhausted. Rest and a nutritionally balanced food regimen will help to improve his energy levels. At that time, he seemed somewhat baffled by his new chain less condition. He played with a chain that lock his gate, jangled it repeatedly. However, he enjoyed his mud pit, and indeed he has been sleeping there rather than under the shelter on his sand pile. He needed times time to adjust to his new life status. He received anti-inflammatory meds and pain modifiers for his injured leg. Superficial wounds have been treated. He is such a good patient, and still a gentle young boy.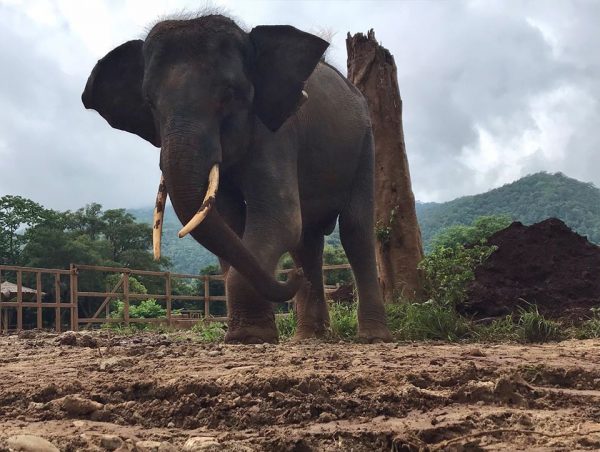 Almost 1 month after he came to the park, Gluay Hom was doing very well. His leg was almost back to normal, but the joint still stiff. He could eat well and has gained his weight. He laid down and sleep well. Gluay Hom had been sleeping at his mud pit, but after a few days he slept on the sand piles in his shelter. His hind legs were still weak, and muscle atrophy clear due to lack of exercise for years. He is isolated in the large yard, and as of yet, shows no interest with other elephants, which is good due to his EEHV condition. He avoided contact if approach by an elephant.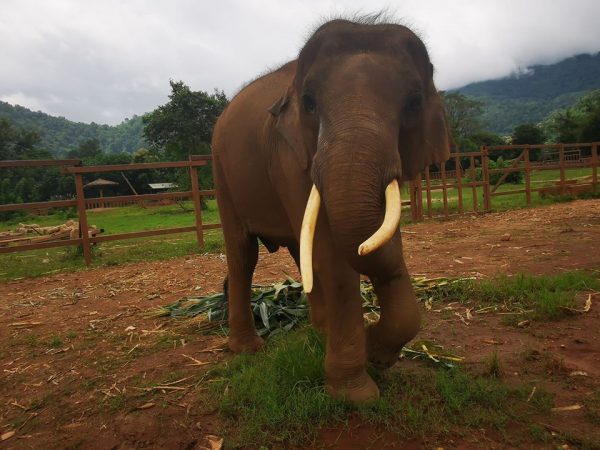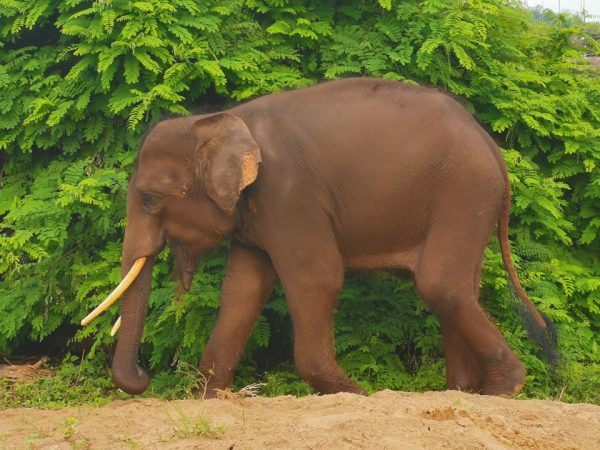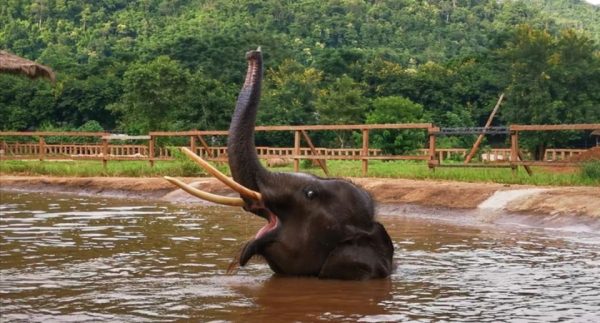 On 20th September, 2019 we weighed Gluay Hom and gladly found he has gained his weigh. He was 1,080 kilograms. His injuries were improving. But he still stayed under support of care for EEHV.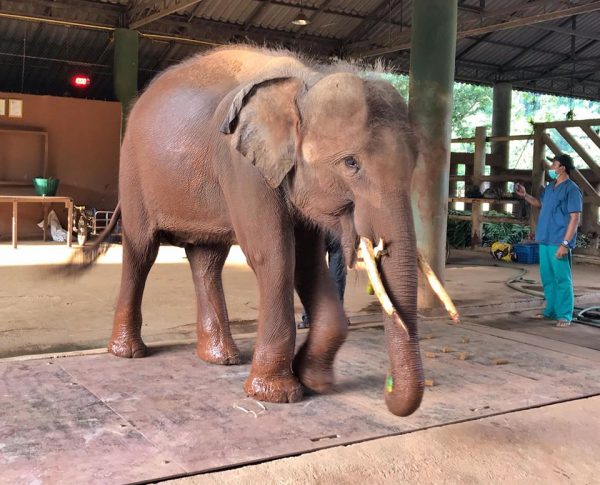 After we learned that Gluay Hom was positive to the Herpes Virus (EEHV), we began initial treatments and supportive vitamins. The medical team follows that with vigilance. His injured leg is almost normal. The swelling is significantly reduced, though the joint is stiff and the leg not used fully. He needed love and care and good food. We brought him to exercise. We tried to heal him both physically and mentally.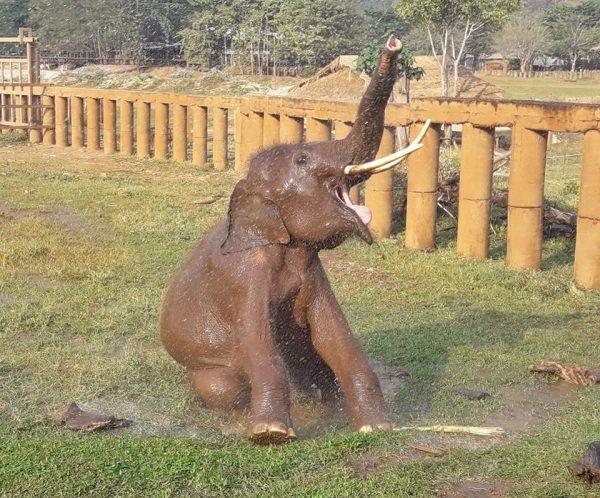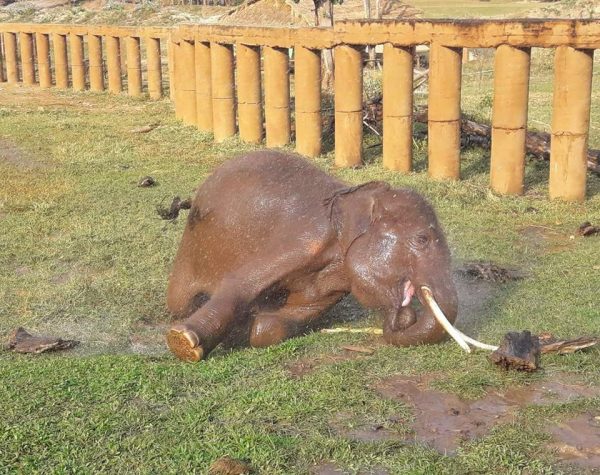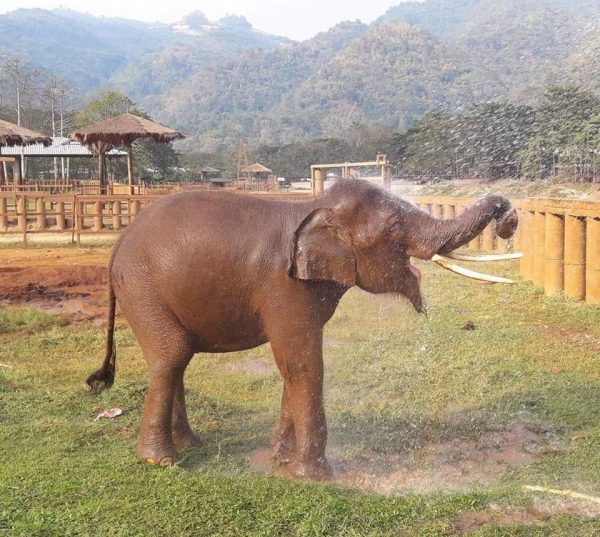 Gluay Hom played with a piece of wood in his chain free shelter. He has changed so much since we first met him 9 months ago. He is stronger and more playful.
We are so proud to see this poor boy who have been living in trauma has transformed and healed even though he still not accept the others but we do not give up. We hope to see he can join the herd and form relationship with his elephant friends.
Donating to sponsor Gluay Hom Gluay Hom's sponsorship
Help the Herd EleGiftCard