The Reunion of Aura and her mother by Lek Chailert at Elephant Nature Park
If you visited Elephant Nature Park between early 2005 -2008, you will remember the lovely baby girl elephant name Aura, and her mother Mae Boong .
The owner of the elephant brought Aura and her mother out of the trekking camp when Aura was four months old because her mother was so skinny and with no milk . The owner worried that if he kept the baby elephant in the camp then the baby would not survive since the mother still worked. So they brought both the mother and baby to be cared for at our project.
Aura became the best playmate of TongJaan, and she learned that her life was to roam free among her friends and nannies in our field .
Every day my heart smiled when I saw them develop a strong bond with others, joining the herd and becoming a family. Aura and her mother were never our elephants. Every day when I saw her enjoy her life at the park, playing in the mud, swimming in the river and running free with friends, my heart carried a burden of fear for her, knowing that one day the owner would take Aura away from us and her life here, that she would endure the traditional training.
So we began to do positive reinforcement training with her. Over the years that she stayed with us she became the most gentle and well-behaved young elephant, and every one who visited loved her .
In December 2008 my fears came true and the owner told us that they would take Aura and her mother to his village. We tried to negotiate for her rescue but without success. Aura and her mother left our project with many tears rolling down.
Five months later we heard that she was quite sick and had gone to the hospital. We were able to bring her her back to our project again on May 2009 but without her mother. They had been separated and taken to work in a tourist camp. Upon return, she was not the same Aura that we had known. She was terrified and would run screaming, even though all her nannies and friends kept trying to comfort her . We asked the owner to bring her mother to come to stay with her, but we can have her mother for a short time only one month . The situation then improved, but a couple of months after Aura's health improved, the owner came to take them away to work again in the tourist camp and separate.
Since they left we have followed them with interest, especially Aura. While young she worked by performing, moving from one camp to the next. Later, when she was big they used her as the trekking elephant.
Mother and baby have been separated since 2009. We never give up to help her. We keep our contact with the owner all the time and this year we succeed to help both of them out from the elephant riding and bring them back together again . You can come and see them at : The Karen Elephant Experience project. Today they do not have to work to service riding again..no more saddle !Come to join Aura and her mother and witness how happy they are now to roam free in their forest home. We hope they will forever stay in the jungle never return to work again.
Aura, Tong Jaan and nannies at ENP in between 2005 – 2009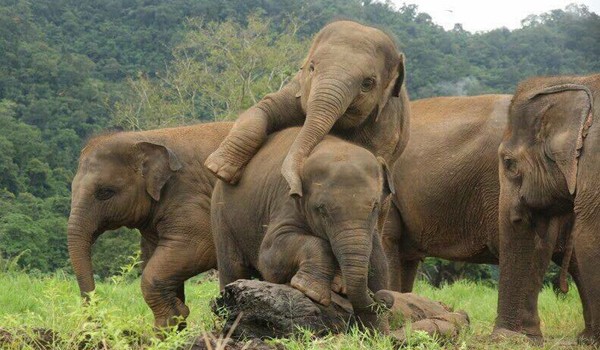 Aura enjoyed living free at ENP with the herd and mother.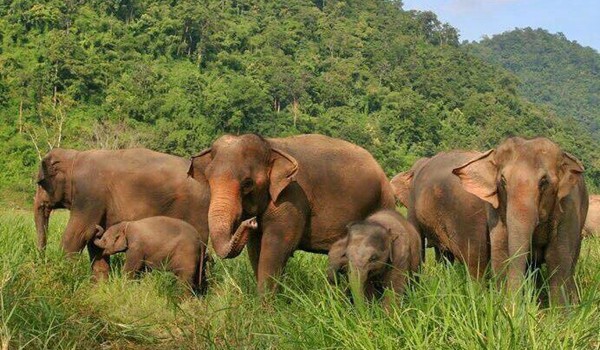 Aura came back on May 2009 with the wounded.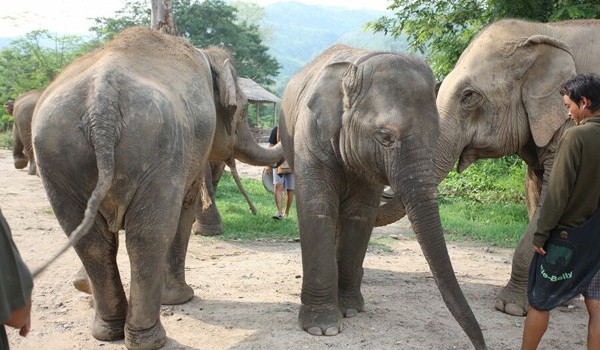 The nannies hug and comfort on her returning.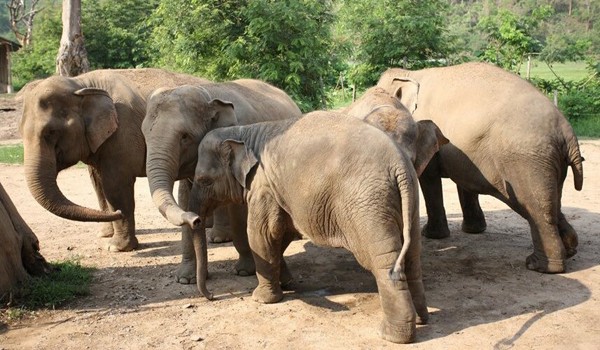 Reunion with her mother Mae Boong and roam free.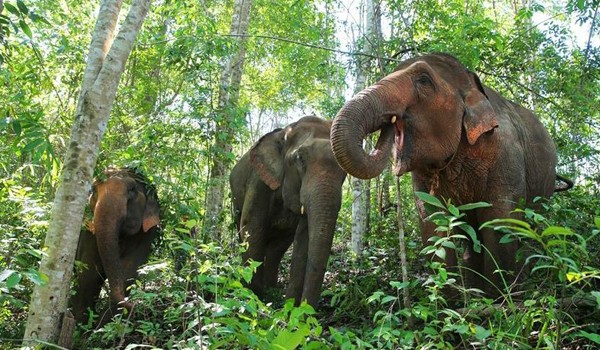 In the home at Karen Elephant Experience.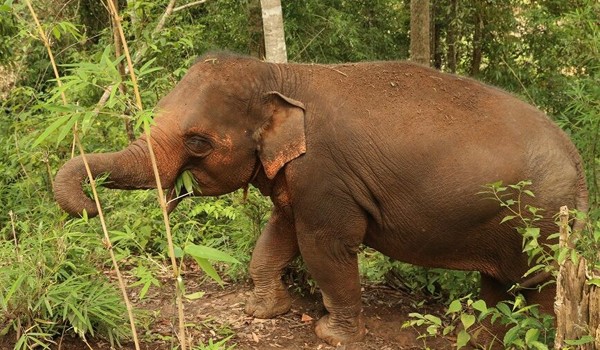 Today at Karen Elephant Experience project.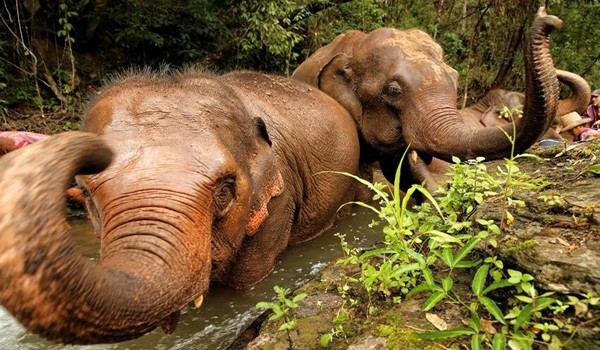 In the jungle free from work .