Our recent rescued elephants, baby Chaba and her mother, Bunma. Their life changed after a few days living at Elephant Nature Park.
On August 8th, 2021 our founder, Lek Chailert was contacted by an elephant camp owner to help rescue a mother and baby, bringing them to live under the care of our organization. The camp owner has been unwell for almost one year, and during this time he have to leave the camp and his elephants under the care of the others.
Due to the lack of income during this COVID crisis, everything is more difficult. The owner wants to sell some of his elephants so he could buy food for the elephants that still living with him at the camp. The owner has chosen to let this mother and baby go because he concerns about the baby's health. They are a young mother and her first child. For that situation, the new mother have a difficulty when she lived alone without any support from the herd to take care her baby. The condition of the baby elephant was not so good, with a lower body weight than normal and her behavior is lethargic and abnormal.
The mother's name is Bunma, who is 16 years old. She is too young to be a mother without helper or nanny. Before COVID-19 pandemic, she was employed in the elephant show, performing and painting at the camp. She gave birth in May of this year and her baby's name is Chaba. Since giving birth, the mother elephant has been chained in a small kennel with her baby and clearly seen that she was living under stress. It is a difficult decision given this situation. During the days when we try hard to survive and mentally close the door to limit any others that might enter our gate, securing well the lives of all who dwell within. But, looking out that window, we see these eyes that beseech us and plead, "Just one more time. Take us home".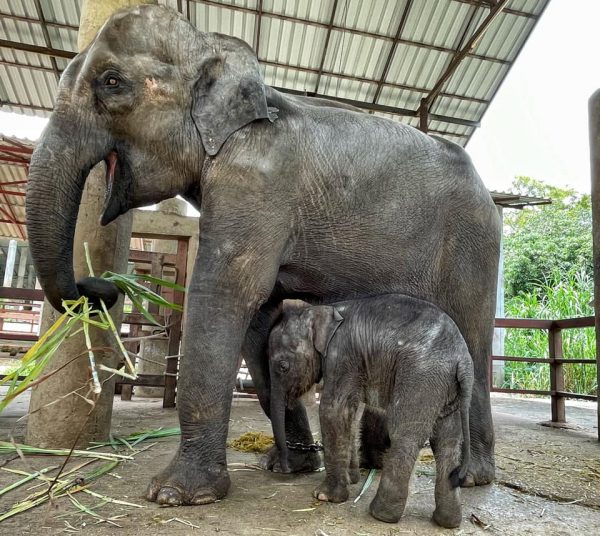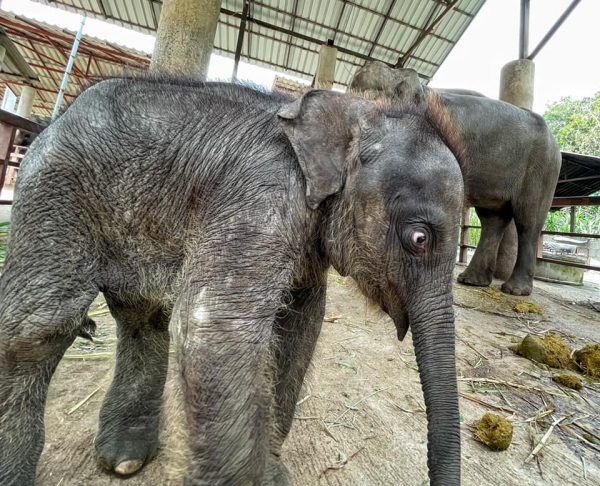 Gratefully, with the kind support from Noelle Weiss, we are able to rescue baby Cha Ba and her mother, Bunma to live with freedom at Elephant Nature Park. Our team made the rescue plan as fast as possible to prepare the night shelter for baby and mother. We asked Mae Sri to share her space with Mae Mai (new) so then we could have the night shelter available for baby Chaba and her mother.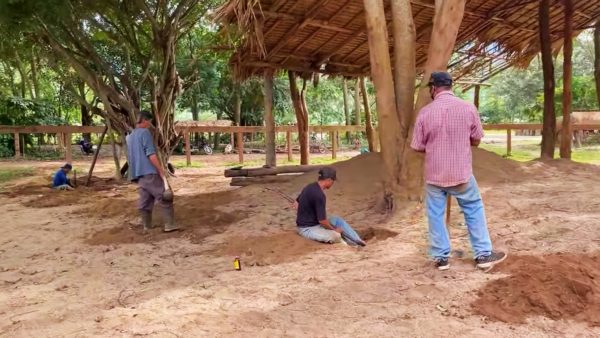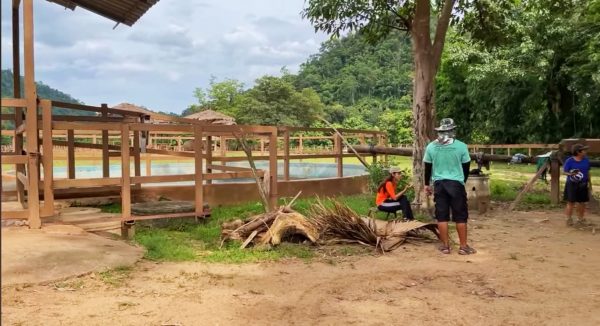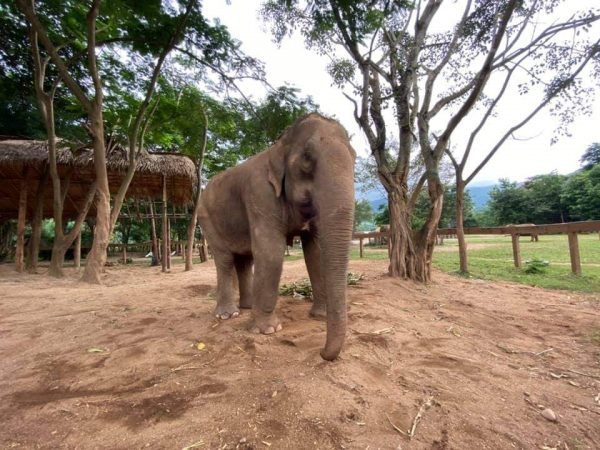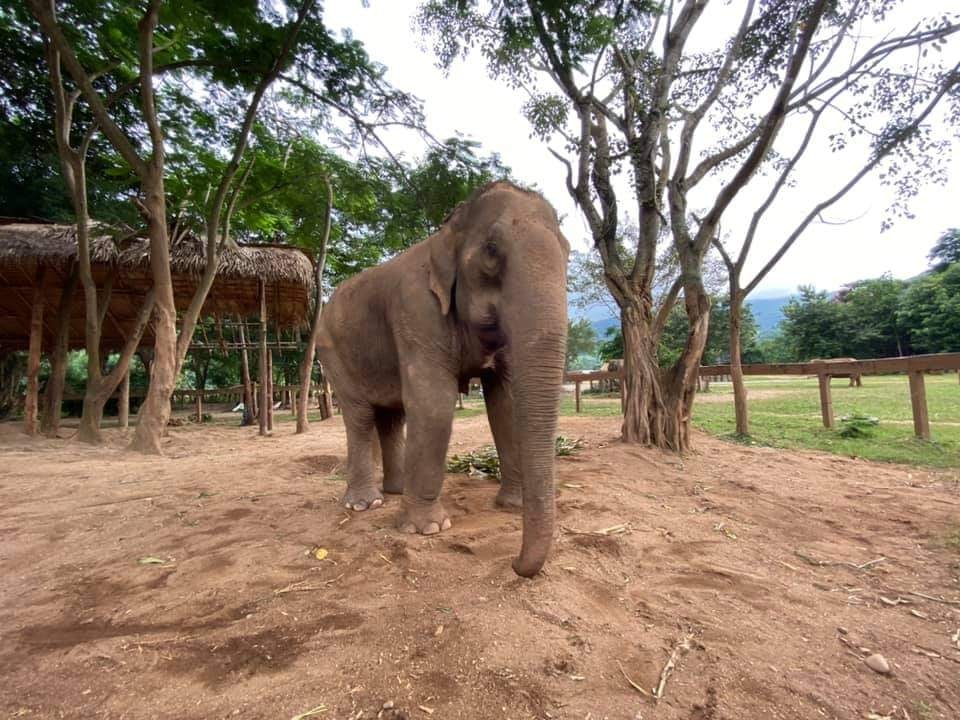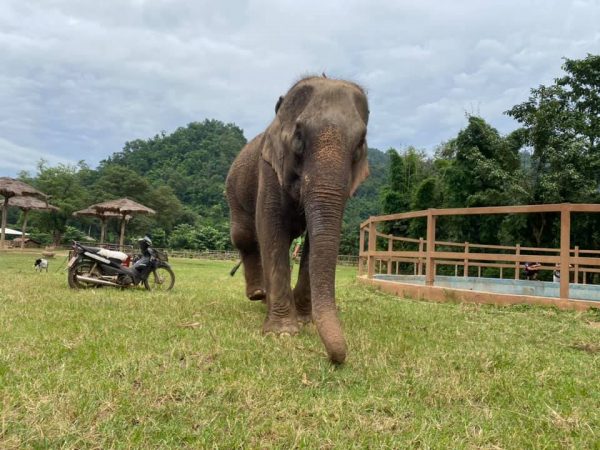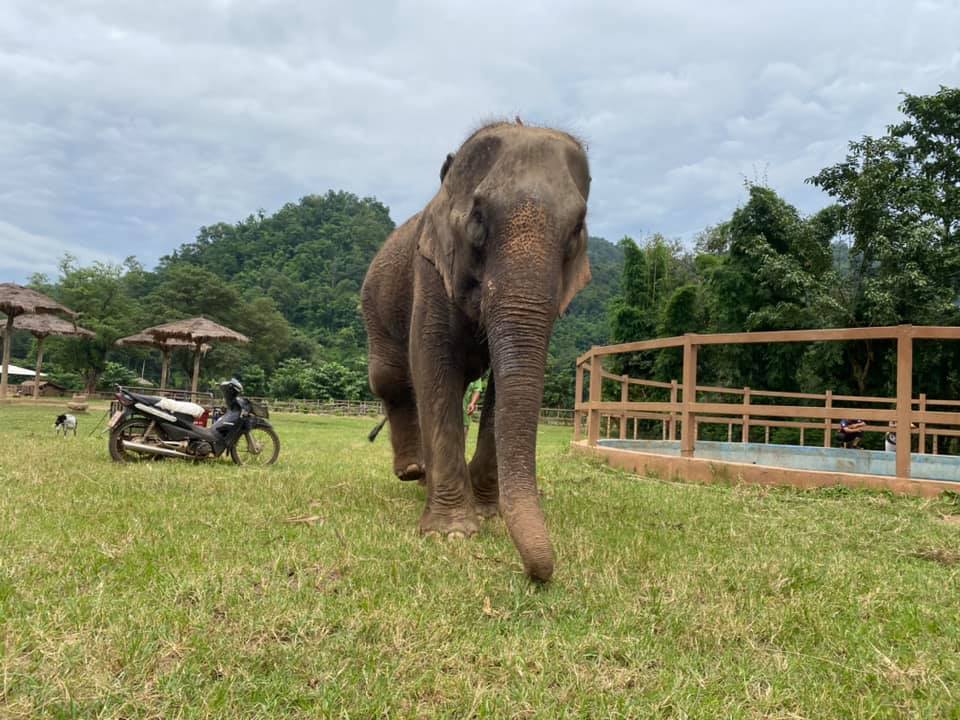 Thankfully to our team, they worked so hard and really fast. The enclosure for two elephants Mae Sri and Mae Mai (new) finished within 2 days. So, on 11th August 2021 we could bring baby Chaba and mother Bunma to the park. At first, we planned to bring them to the park by the truck but the mother, Bunma refused to go on the truck. To alleviate her stress, we changed from the original plan and decided to walk. The journey was without incident, only Bunma panicked somewhat from the sound of cars along the way.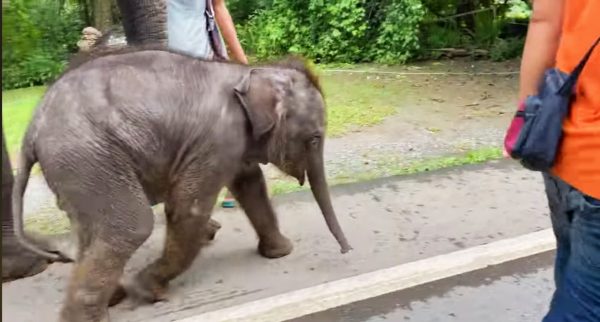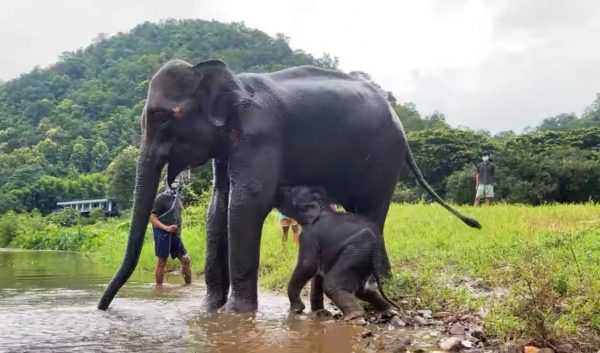 On August 12th, 2021 (which is Thai Mother's day and World Elephant Day), the mother and baby enjoyed their first day of the new life at ENP. They are home now. They are no longer will require a chain. We borrowed Mae Mai's room for them. Our mahout stay in a tent close by to monitor both of them during the night time. The baby is underweight, and the mother did not have enough milk for her due to the initial problems nursing as well as inadequate nutrition and stress contributed to her smaller stature. We started a program right away to assist a rapid recovery. And we will consider who best to be nanny to these new arrivals.
On behalf of these two beautiful lives, we would like to thank Noelle Weiss who helped to free them. Thanks to all those who have contributed toward their steadfast daily care.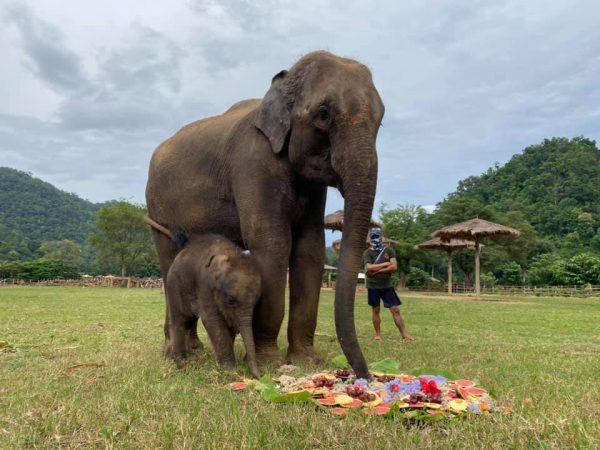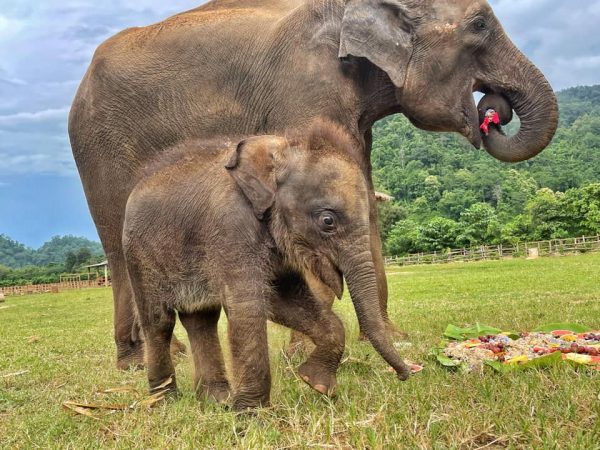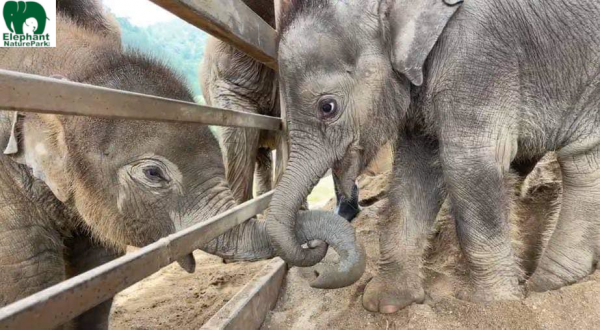 This is a heart warming moment when baby Pyi Mai came to visit and welcome baby Chaba, see how adorable they are.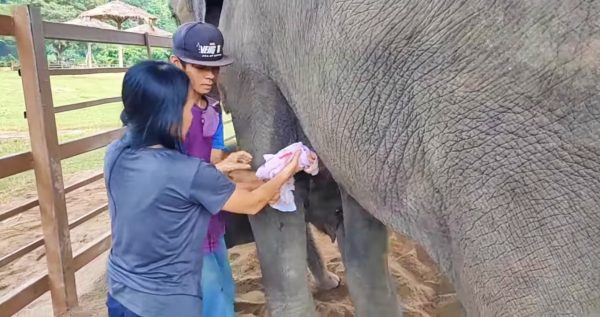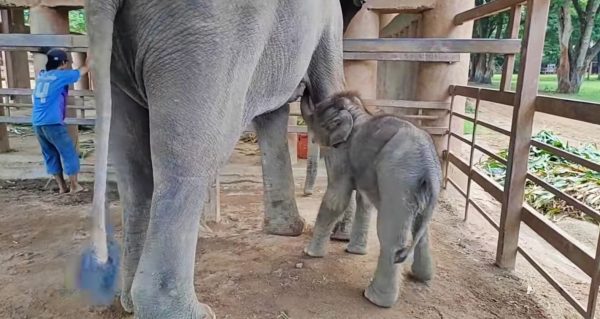 With love, supplements, delicious veggies and fruits mama Bun Ma finally has a milk for nursing her baby Chaba after only one day of their arrival. Both of them are more relaxed and learning the beautiful life they didn't know they could ever have at their forever home. We hope the mother will regain her weight soon so their health condition will be improved.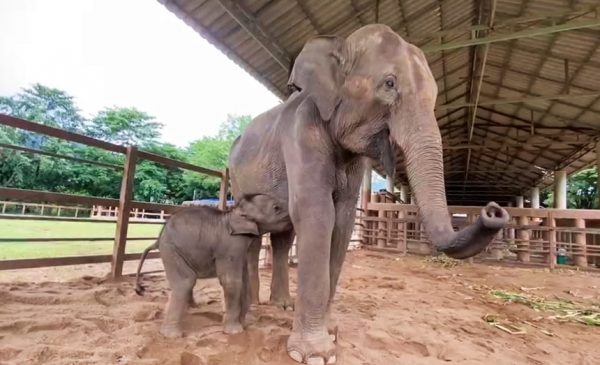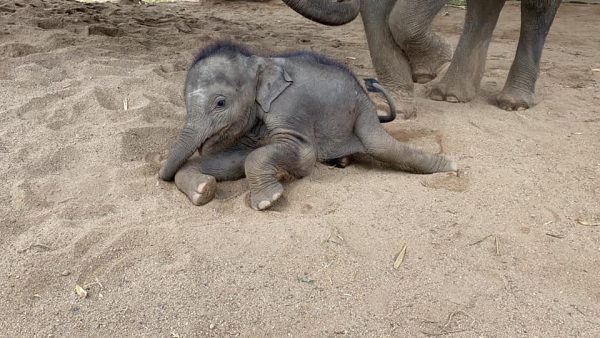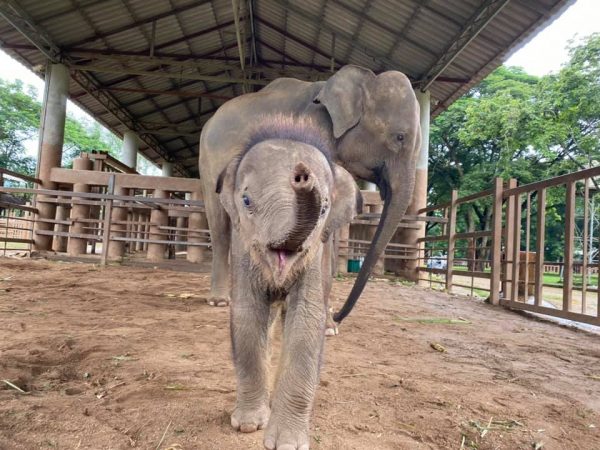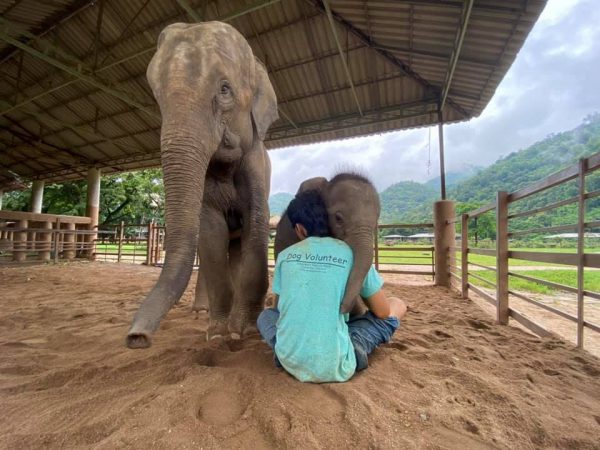 Baby Chaba enjoying to drink and play with the water in her little tub. She is more playful and has more confidence.
How you can help to support our elephants: Contribution to Elephant Nature Park or Elephant's Fruits Bucket