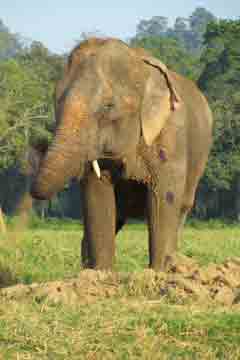 Kwan Jai is not feeling well and our vet fears that she may not last out the month.
This grand mother of the herd has been with us since 2010 and has become one of the most loved elephants at the park
I appreciate the kind support and messages that have been received and thank you all. We are hoping that she can find the strength to fight and remain with us.
---
Update: 22 Feb 13
Kwan Jai is finding it ifficult to get and stand up. She needs many mahout to help heave her upright. She is sleeping all day long except when we put food basket, out for her. She will eat and the lay down again.
We have made her our FaceBook Elephant of the Week in the hope that the positive energy will help improve her condition.
Update 04 March 2013
Kwan Jai passes away. We will all miss this lovely girl so much.