Experience Journey to Freedom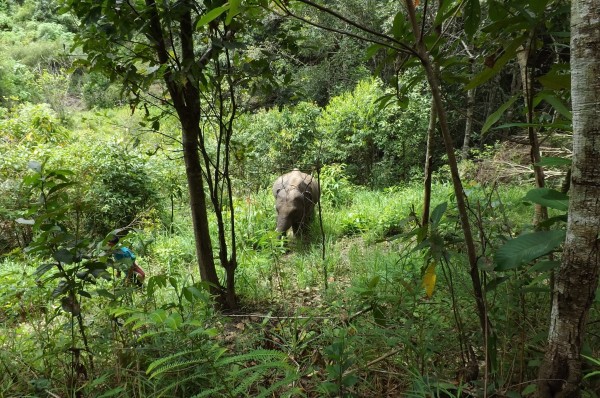 Travelling down the dirt road through the mountains of Northern Thailand, you arrive at a small open reserve surrounded by the greenery of the jungle. From the opening, 4 elephants can be seen wondering through the trees foraging for food. The Journey to Freedom elephants are living a chain free life away from the saddle and the hook; they have returned to nature.
Volunteering at Journey to Freedom gives you an insight into the lives of the Karen people, a tribe that has lived alongside the elephant for many centuries. The Karen mahouts originally used their elephants in the logging industry. When the logging ban was introduced in 1989, many of the mahouts and their elephants were left unemployed with no source of income. With no alternative, the Karen mahouts were forced to lease their elephants to the trekking camps in order to support their families. Now, with the help of Save Elephant Foundation, the elephants have been reunited with their mahouts and have begun to re-connect with the jungle.
Volunteer at Journey to Freedom allows you to become immersed in the culture of the Karen people. Learn about their traditions passed down by their ancestors and witness the way the village uses the jungle as part of their daily life. Help an entire community to improve their quality of living in a unique and memorable experience; from teaching the local children to learning the plants used in herbal remedies, this project will introduce you to the Karen way of life unseen by many. With the appreciation shown by the local people and the knowledge that the elephants are no longer forced to work, Journey to Freedom will give you a real sense of accomplishment in knowing that you have touch many lives while supporting one of Thailand's oldest hill tribes.