Elephant of the week, Mae Dao Ruang our sparkling star
We would be proud  to introduce our new member to all of you, she is Mae Dao Ruang. Her name is mean " Sparkling Star ". She used to work in a trekking industry and used to be a street begging elephant for more than ten years. Because of she's getting old, the hard work and lacking of the nutrient food cause her the illness. The owner send Dao Ruang's photo to Muoy Khamwichai and offer to sell her to Muoy. Of course, Dao Ruang looked great on that pictures but when she arrived ( 6 months ago), she was very skinny and unhealthy, she refused to eat and drink. Muoy made the discussion with Lek and finally both of them agree to safe Dao Ruang's life.
Nowadays, she is stronger and becoming a beautiful female elephant. We have to say " THANK YOU " to Muay Khamwichai, the heroine who safe Dao Ruang's life and dedicate herself to give the best ministering to Dao Ruang. To see how beautiful she is, you could meet and feed her at Pamper a Pachyderm program.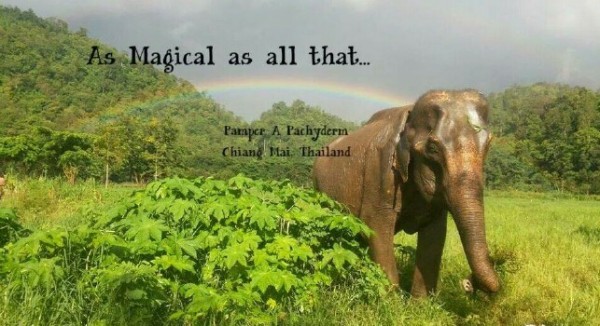 At the first arrival, Dao Ruang is skinny and unhealthy. She refused to eat and drink.
We tried to offer Dao Ruang the fresh fruits and water.
After 6 Months, Dao Ruang is healthy and very beautiful.